Open lecture by Anupam Kundoo (Online Lecture Series / Architecture Speaks, Aalto University)
Jan 12, 2021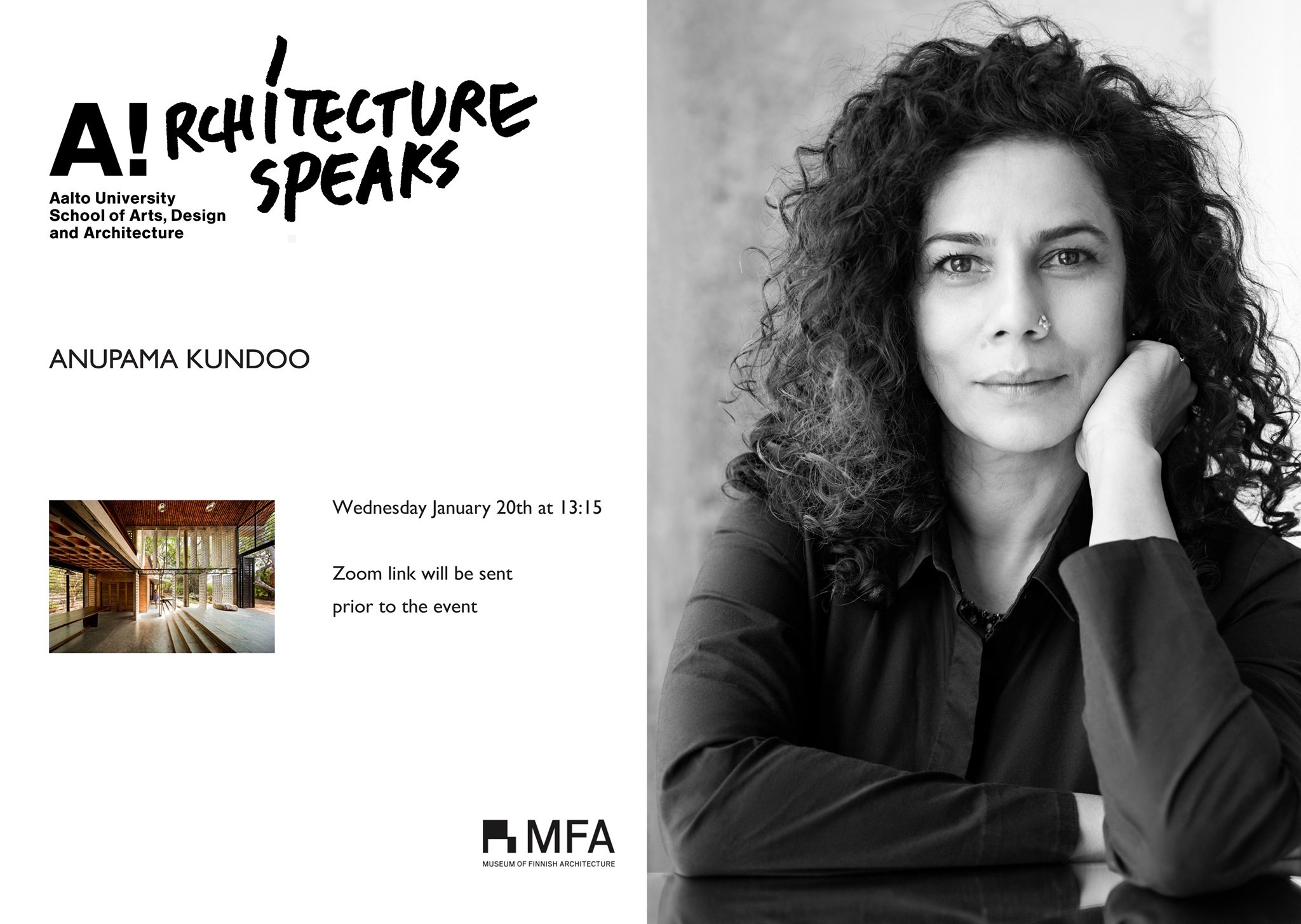 ANUPAMA KUNDOO, Architecture speaks
Anupama Kundoo Architects / India, Germany

The event will take place in Zoom. We want to make this lecture series safer to all participants – there will be no participation fee, but pre-registration is needed. Registration for the lecture ends on Wednesday 20th January 2021 at 12 pm. Online participants will be sent an invitation link to the event.
Register here: https://q.surveypal.com/Registration-Architecture-Speaks…
The international lecture series on contemporary architecture continues online. Six architects from various backgrounds are invited to share their thoughts and ideas on current trends in architecture.
Anupama Kundoo was born in Pune, India in 1967. She graduated from Sir JJ College of Architecture, University of Mumbai in 1989, and received her PhD degree from the TU Berlin in 2008. Her research-oriented practice focussing on material research to achieve architecture of low environmental impact while being socio-economically beneficial, was exhibited twice at the Venice Architecture Biennale, with the installation Feel the Ground. Wall House 1:1 in 2012 and Building Knowledge, An Inventory of Strategies in 2016 and now exhibited as a solo show 'Taking Time' at Louisiana Museum of Modern Art, Denmark till 31 January 2021.
Anupama Kundoo's practice started in 1990 in Auroville where she worked closely with Roger Anger on Auroville's planning, particularly the urban design of Auroville's City Center, Administration Zone and Habitat Area till his last days. She taught Urban Management at TU Berlin and strengthened her expertise in rapid urbanization and climate change related development issues, about which she has written extensively. She is the author of the bilingual book Roger Anger: Research on Beauty/Recherche sur la Beauté, Architecture1958 –2008, published in Berlin by Jovis Verlag in 2009. Anupama Kundoo is currently Professor at Potsdam School of Architecture, Germany.
"Anupama Kundoo has in her work a strong sense of haptic qualities, warmth and richness. Her kind of material research is something I would like to see more of in architecture", says Jenni Reuter, curator of the lecture series.
ARCHITECTURE SPEAKS
This international lecture series is curated by Professor Jenni Reuter and organised jointly by Aalto University Department of Architecture and the Museum of Finnish Architecture. The new season of lectures examines the relationship between the interior and exterior in architecture as well as hapticity and time in the built environment. Six architects from various backgrounds have been invited to share their thoughts and ideas on current trends in architecture.