BAS teachers represented at the Venice Biennale di Architettura
Jun 09, 2021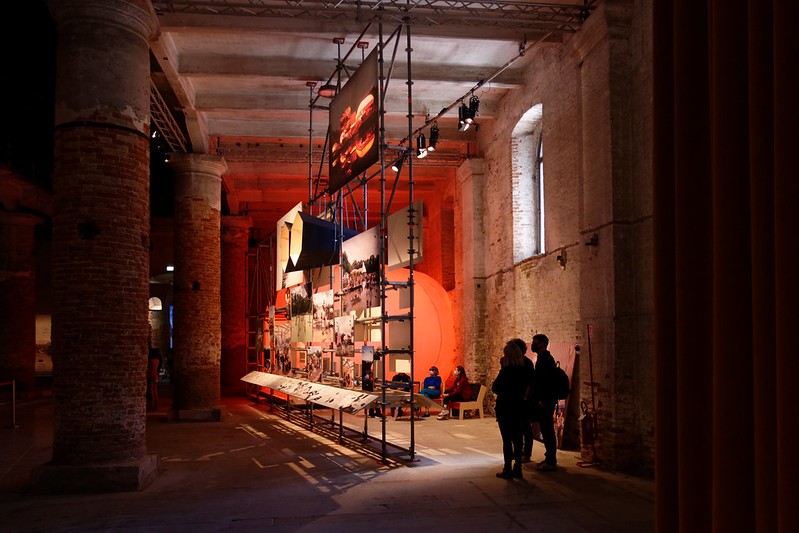 From exhibition Raumlabor
We are proud to say that several of our teachers are represented in Venice; Christof Mayer and Jan Liesegang (Raumlabor), Espen Folgerø (Opaform) and Cristian Stefanescu (a-works).
Here you can read about the installation of Raumlabor; Instances of Urban practice.
Opa Form Espen Folgerø, Marina Bauer:"As new housholds" Opa Form was invited by the curator Hasim Sarkis to present as part of the main exhibition., the photo gallery below show some of their work/installation.
---
BAS teacher Cristian Stefanescu (a-works) has contributed research material and 2 projects to this year's Romanian Pavilion at the Venice Biennale of Architecture. Titled Fading Borders, the curatorial project by Poster Architects brings into light the complex relationship of Migration and the City represented by two main parts inside of the pavilion: (Away by Teleleu) a journalistic survey of the lives of Romanian migrants within various local European communities and (Shrinking Cities in Romania by IDEILAGRAM) the interconnected shift in architecture and urbanism within six Romanian cities greatly affected by this phenomena. The contribution is anchored by work carried out at BAS with students and teachers in the master course Braila Laboratory (2015) and the subsequent publication This Place is Pretty Good: Spatial Engagement with Braila's Latency.
Abstract Space and the Urbanization of the North Sea (Nancy Couling with cartography by Philippe Rekacewicz) One of the six case-studies of extended urbanization shown as part of the contribution Worlds of Planetary Urbanization, (central pavilion, Giardini).
Team: Neil Brenner, University of Chicago, with Grga Basic, Mariano Gomez-Luque; Daniel Ibañez; Nikos Katsikis; Clay Lin; Adam Vosburgh and Abbie Zhang Christian Schmid & Milica Topalović, ETH Zurich D-Arch and FCL Singapore, with Philippe Rekacewicz, cartography; Goda Budvytytė, graphic design; Hans Hortig, Oliver Burch, Michiel Gieben and Klara Sladeckova, exhibition design; Nancy Couling, exhibition coordination; Rodrigo Castriota, Nancy Couling, Alice Hertzog, Nikos Katsikis, Metaxia Markaki and Kit Ping Wong, research and photography; Niccolò Cuppini, Italian translation

---