'Dancing with Salmon' Urgent call: Summer workshop in Bergen
Jun 24, 2022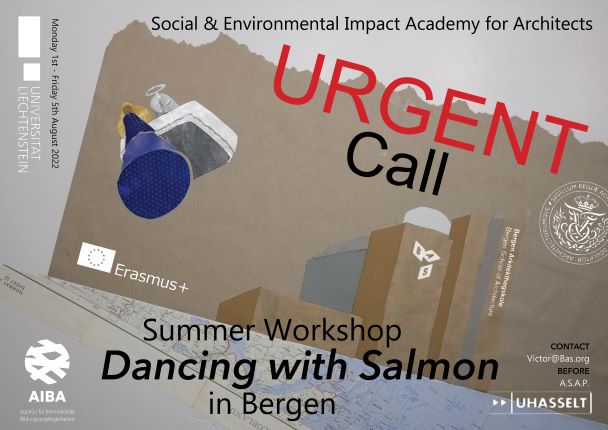 ERASMUS+ Social and Environmental Impact Academy for Architects
Monday 1st – Friday 5th August 2022
What the workshop can offer:
5 days focussed on environmental impact orientated design at the school in Bergen
Placing nature as our client for the planned redevelopment of the waterfront quay outside BAS
Workshop guided by a dancer, biologist, artist, and the researchers at the Fish Museum to explore new practices
Collaboration with 15 visiting students from 3 other architecture schools
Lecturers from the University of Liechtenstein (LI), Hasselt University (BE), and the Royal Danish Academy (DK)
Findings from our experiments will be documented and given to the city planners as nature-based and focussed guidelines for the development of Kristiansholm, where hundreds of apartments at due to be built on the plot adjacent to our school
Sharkathon 'all-nighter', with cinema from the genre of shark attack horror
Funded for food, all costs and materials by ERASMUS+
Option to join for the final workshop in Copenhagen in Summer 2023
What the organisation is:
Partnership between University of Liechtenstein, Hasselt University, the Royal Danish Academy and BAS funded by ERASMUS+
Collaboration with a focus on sharing social and environmental competencies and interests of 4 partner institutions
Exploring concrete responses mapped to the 17 Sustainable Development Goals of the United Nations
The third instalment of the four-workshop series visiting architecture schools across Europe
Findings will be exhibited and presented at the International Union of Architects Congress in Copenhagen in 2023. The event has the theme 'Sustainable Futures – Leave No One Behind'
If you need accommodation to participate, please also make contact.
We have filled one of the five places available for the workshop with a visiting international student. We hope to have some additional students who already know the school, workshops, and methods/approaches that we have in common so we can share our practices.
For more information please contact:
Victor@bas.org