Diploma ceremony and exhibition
Aug 21, 2020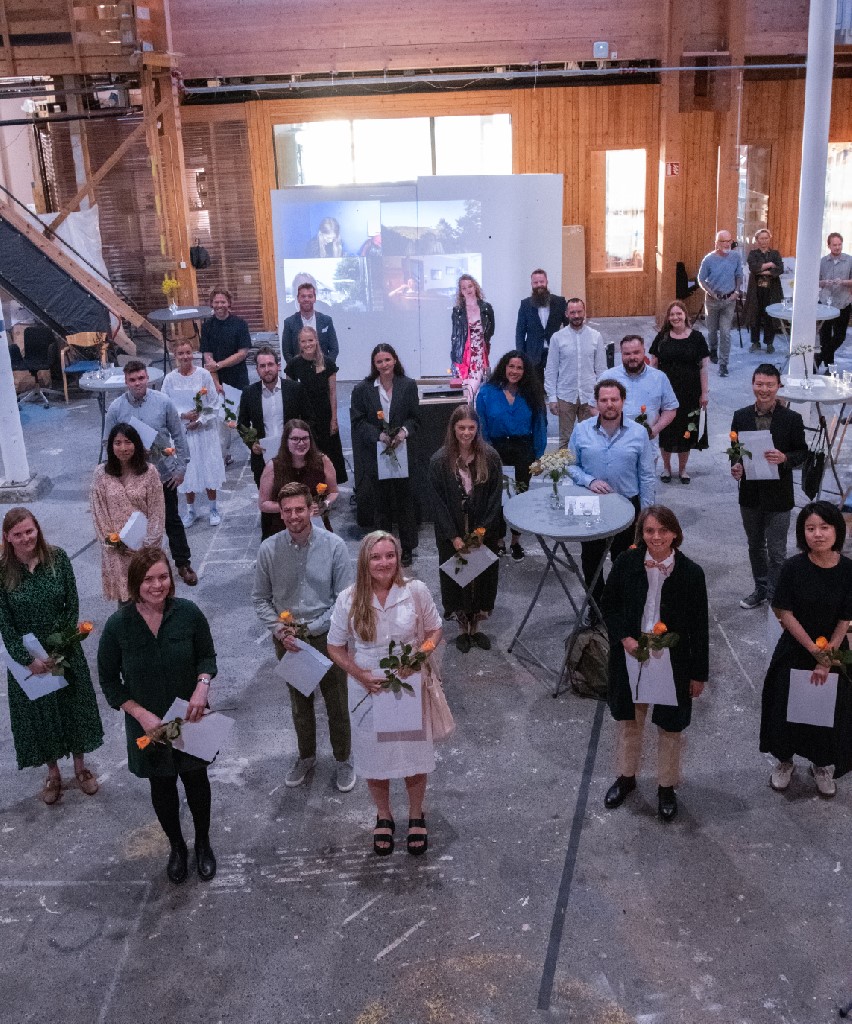 Photo: Alvar Elias Ekhougen Larsen
Saturday 15. August 2020 we celebrated our 33 new Masters in Architecture from BAS. We invited to a very limited ceremony, where all covid-19 precautions were taken. The candidates could come and bring a restricted number of guests. Those not able to attend, joined us via zoom and watched the ceremony that was streamed from the large hall at BAS. We were happy that we could honour our graduates in this event, despite the challenging times.
DIPLOMA EXHIBITION
The projects will this year due to the covid-19 not be exhibited at BAS. In 2020 the diploma exam and hence also the exhibition is digital, and you are all invited to visit it at http://solitude2020.bas.org/
The following candidates have graduated as Master in Architecture:
Barfod, Julie / Figuereido Linda / Morrissey, Julia – joint project 
Brandtzæg, Elisabeth
Bønes, Tilla Tine Bårdsdatter
Dale, Pernille
Danis, Tanguy 
Døskeland, Solveig Sanden
Edal, Mats
Hansen, Susanne Oldereide
Haukjem, Karoline / Van de Walle, Emilie – joint project
Hoddevik, Jim Rune Kvamme
Holvik, Stephan 
Högberg, Axel 
Israel, Lior 
Juvik, Stein-Atle
Kartvedt, SIndre Odd 
Lee, Cheng-Han
Lin, Wan
Lu, Wu-Lung
Majewski, Gustavo / Nilsson, Hillevi – joint project 
Midtun, Ingeleiv Andrea Utne
Nerhus, Maria Helena Konttinen 
Nærøy, Stina Tomin
Samachai, Praewa
Skard-Garberg, Rikke Sæthrum
Slevigen, Truls 
Solbakken, Christian
Tamas, Claudiu Bogdan 
Tvedt, Veronika Sløk
Ødesneltvedt, Hanne 

Pass with distinction
4 of the projects were awarded with a Distinction from the assessors. This is an award for outstanding quality on the following projects:
Barfod, Julie / Figuereido, Linda / Morrissey, Julia: "THE RADICAL FUTURES CLUB FOR THE REORGANIZATION OF MATTER"

Haukjem, Karoline / Van de Walle, Emilie: "LIMINAL LANDSCAPES, three ports in transition"

Kartvedt, Sindre Odd: "A future in ruins Exploring the possibilities for a new wave power plant at Toftestallen. Giving visitors the opportunity to experience the site from a different point of view"

Tamas, Claudiu Bogdan: "Upstream"
BAS congratulates all 33 masters in architecture, and we wish them all the best for the future!