Open evening lecture "On Performative Spatialities"by Nagy Makhlouf
Nov 02, 2022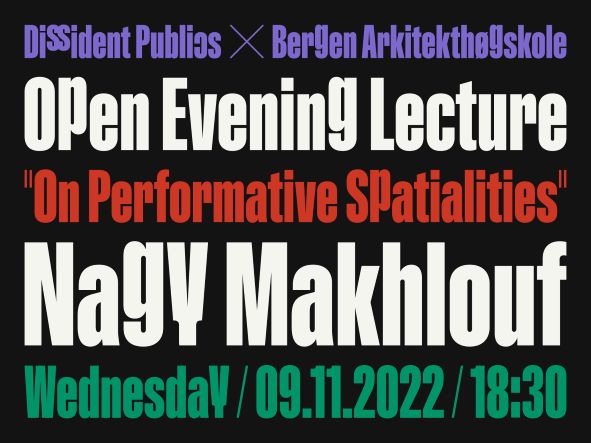 Dissident Publics x BAS: OPEN EVENING LECTURE
The Bergen School of Architecture (BAS), NOGOODS and EXUTOIRE warmly invite you all to an evening talk at BAS on Wednesday 9 November 2022. We are thrilled to welcome Lausanne-based architect and PhD candidate Nagy Makhlouf to share with us several of his research projects "On Performative Spatialities". This event is part of the public program of "Dissident Publics – NOGOODS Studio", as well as BAS's Open Evening Lecture series. Bar opens at 18:00, talk starts at 18:30. BAS Auditorium, Sjøgaten 59, 5035 Bergen. Free entrance. We look forward to seeing many of you!

"On Performative Spatialities"
Through repeated actions – habits, norms – we transform our environment, which in turn transforms us. Therefore, our actions perform spatialities. Then, with which architectural means can we oppose harmful normativities and support beneficial ones? How can these be helpful for dissident publics? We will discuss a framework for a performative approach to the built environment. On the one hand, the research of novel uses of computational design tools to investigate, draw and imagine the diversity of norms that (can) produce our world; on the other hand, the co-teaching of techniques to spot and tweak such norms.
Nagy Makhlouf is an architect and a doctoral student at the Swiss Federal Institute of Technology in Lausanne (EPFL), where he collaborates with the ALICE and RIOT laboratories. He researches drawing the political economy of space production, focusing on housing in North America, and he participated in the collective teaching of "DRAG(UE): Performativity and the built environment."
This open evening lecture is organised as a collaboration between The Bergen School of Architecture and the "Dissident Publics: Future Artefacts of Queer Methodologies" project group. Launched in August 2022 at ROM for kunst og arkitektur "Dissident Publics" is a collaborative artistic research project that explores "dissidence" as an agent of change and the act of "queering" as a radically inclusive approach to the making of public space. By bringing together architecture, visual arts, performance art, and activism, it aims at creating new queer narratives, methodologies, artefacts, and imaginaries of public space to break free from the overshadowing heteronormative conditioning of cities today.