Open lecture "Listening to find questions" by Jana Winderen
Sep 29, 2023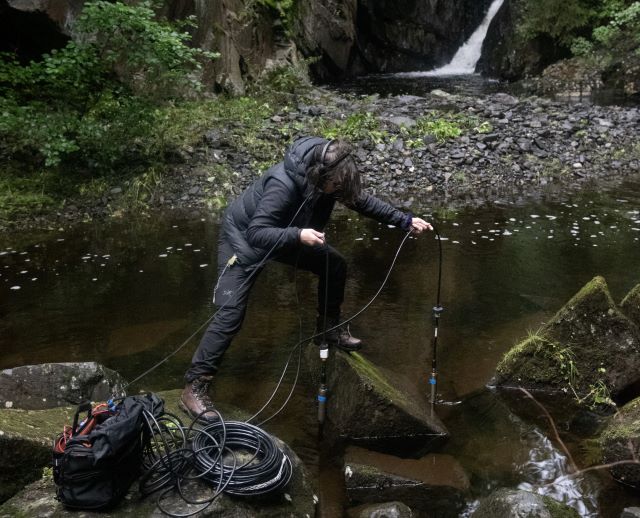 Sound is all around us all the time, in the environments we share with all other species and each other, also under water. Listening to an environment gives you essential information, and it can make you see better and notice creatures, issues and stories you might otherwise have missed.
Jana will talk about field recording trips she has done to the Barents Sea, the North Pole, in the Tropics and in her back garden. She will also talk about how she is working with the sound to make installations, releases and concerts.
More information: https://www.janawinderen.com/
Listening: https://janawinderen.bandcamp.com/
Bio:
Jana Winderen is an artist based in Norway with a background in mathematics, chemistry and fish ecology. Her practice pays particular attention to audio environments and to creatures which are hard for humans to access, both physically and aurally – deep under water, inside ice or in frequency ranges inaudible to the human ear. Her activities include site-specific and spatial audio installations and concerts, which have been exhibited and performed internationally in major institutions and public spaces. Recent work includes The Art of Listening: Underwater at Lenfest Center for the Arts, Colombia University, New York, Listening through the Dead Zones for IHME, Helsinki, The Art of Listening: Underwater for Audemar Piguet at Art Basel, Miami, Rising Tide at Kunstnernes Hus in Oslo, Listening with Carp for Now is the Time in Wuzhen, Through the Bones for Thailand Art Biennale in Krabi, bára for TBA21_Academy, Spring Bloom in the Marginal Ice Zone for Sonic Acts, Dive in Park Avenue Tunnel in New York and Ultrafield for MoMA, New York. In 2011 she won the Golden Nica at Ars Electronica for Digital Musics & Sound Art. She releases her audio-visual work on Touch (UK).