Open lunch lecture "Project One" by Felicity Scott
Mar 07, 2023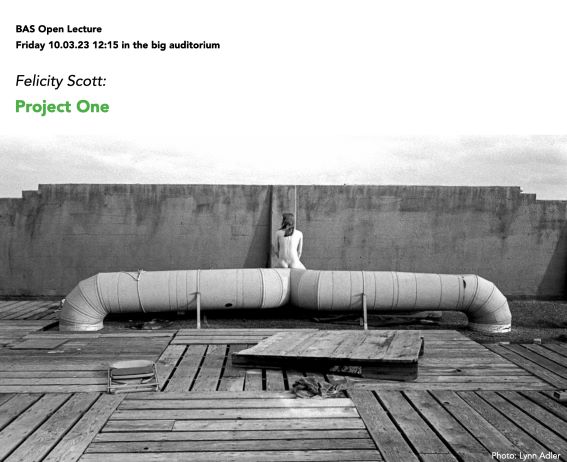 Felicity D. Scott is Professor of Architecture, Director of the PhD program in Architecture (History and Theory), and Co-Director of the program in Critical, Curatorial and Conceptual Practices in Architecture (CCCP) at the Graduate School of Architecture, Planning and Preservation, Columbia University. Her work as a historian and theorist focuses on articulating genealogies of political and theoretical engagement with questions of techno-scientific, environmental, and geopolitical transformation within modern and contemporary architecture, art, and media, as well as upon the discourses, institutions and social movements that have shaped and defined these disciplines, sometimes evidently, sometimes less so.
In addition to publishing numerous articles in journals, magazines, catalogs, and edited anthologies, she has published Architecture or Techno-Utopia: Politics After Modernism (MIT Press, 2007), Living Archive 7: Ant Farm (ACTAR, 2008), Outlaw Territories: Environments of Insecurity/Architectures
"An important part of the counterculture of the 1970s, Project One, sometimes described as a technological commune, was an intentional community in San Francisco, California, U.S. Located [in] an abandoned candy factory, the community functioned from 1970 to 1980 and was the first "warehouse community" in San Francisco.
The community had no formal organizational structure. Decisions were made through a voluntary weekly meeting of members who made decisions based on a consensus of those present.
Project One was initiated by architect Ralph Scott, a former student of Buckminster Fuller, and rapidly became an interdisciplinary learning environment. […] Many of these resident non-profit organizations and small businesses were brought in to serve as resources for the students, who were also members of the larger community. Students found mentors who offered skills training and the opportunities to practice new skills." (Wikipedia)