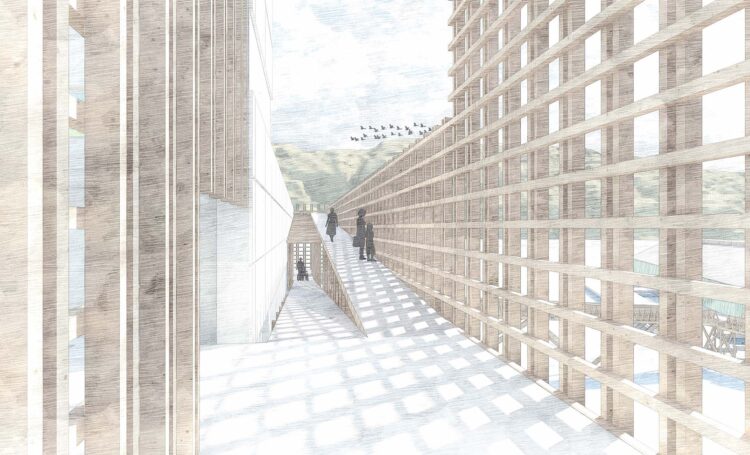 Where?
This diploma takes place in a former paper mass factory in the bay of Lervik, Kvinesdal. When production grew in the 1960s, a community formed around the concrete production building. Many of the workers settled down with their families in houses nearby. They would take care of the gardens, growing bushes with roses and red currents. Children would play at the site, sometimes sneak into factory spaces or tag along on the forklifts. The industrial area became a platform for co-existence of production and life. As the industry served Kvinesdal with job opportunities there was also a downside to the economic growth the community gained. The continues anthropogenic extraction of landscape left marks that are visible to this day. To make way for new infrastructure, large parts of the surrounding area was covered with asphalt. Also, the ocean and seabed were polluted and when the factory relocated, the landscape and buildings was left behind. Today, the buildings and landscape are neglected and abandoned. We can clearly see that the human activity in the area benefited Kvinesdal at the cost of landscape.
What?
This diploma seeks to find new potential within the industrial site and buildings at the shore of Lervik. The anthropogenic interventions in the bay of Lervik are one of many examples of destruction that benefit human-actors with the disregard of landscape and other living creatures. The ecological issues that the site is facing are too big to ignore and moving forward there is an urge to approach the site with a consciousness to landscape. Could we introduce new human activity that is not at the cost of landscape?
As we approached the site from a landscape-perspective, the term "nyttevekster" was brought forward in the discussion of taking care of nature. "Nyttevekster" can be translated as "growth to make use of". These types of plants are not only useful for people, but they are also important for animals, insects or to other growths. Foraging nyttevekster have been done through centuries. The Norwegian term used here is "sanking", meaning collecting growth to make use of in a sustainable way. Leaving enough of the plant so that in can continue to grow the next year. A growth to make use of in a human perspective could be a plant to eat, branches from a tree to make a basket or a flower to colour your linen.
Today, if we need a new basket, linen in a specific colour or food to make dinner, we go to the store. Coming to the store we get the impression that there is an unlimited number of supplies to cover our needs. We become distant to the process of how these goods are made and where they come from.
This diploma seeks to bring forward the knowledge and use of nyttevekster that is we have forgotten in our daily life. By transforming the industrial site at Lervik into a workshop for nyttevekster, we intend to reduce the distance between human and landscape and hopefully contribute to a more conscious relationship between anthropogenic actions and land. The site at Lervik will become a space for practical learning to collect and prepare nyttevekster.
Why?
The future of how and where we build is changing with more attention towards environmental and sustainable solutions. The arguments of tearing something down, if the program is "outdated" or the building is "out of style" often seems unreasonable in an environmental context. In many cases buildings and landscapes that once had a single purpose can be difficult to transform and adapt to a new use. At the same time "outdated" buildings often have a historic and cultural foundation within their surroundings. And when tearing them down it also takes away the connection they once had to community.
Though many decades the nature and other living things in Lervik has been extracted, adapted, or covered to make way for human activity. By transforming the area to a space for knowledge and sustainable use of nyttevekster we are shifting focus from extraction of landscape, to care and consciousness for nature. The aim is to show that there can be a co-existence of human activity and growth of landscape.