MULTI SPECIES Group Exhibition on Art, Architecture and Ecology
6. sep, 2023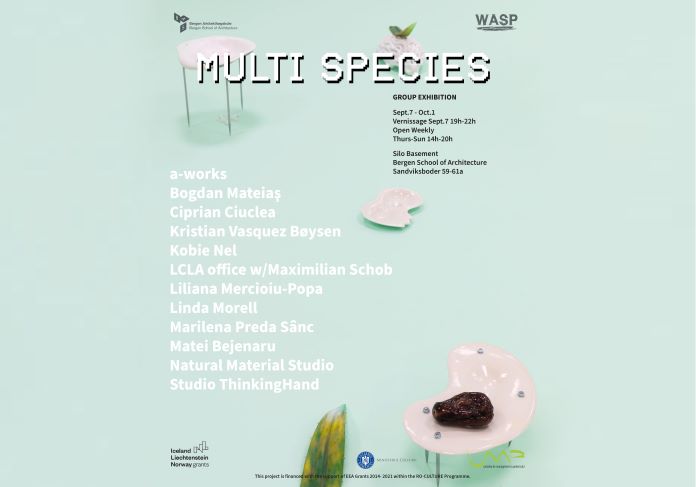 Welcome to the opening of the group exhibition MULTI SPECIES taking place on Thursday, Sept. 7 from 19:00-22:00 within the industrial silo basement of the Bergen School of Architecture.
The exhibition runs from Sept.7 to Oct.1, open each week, Thursday to Friday from 14:00-20:00
The opening day of the exhibition is followed by a 1-day seminar CROSS FIELDS on the following day, Sept. 8 from 14:00-20:00 within the Large Auditorium of the Bergen School of Architecture. It features a group of speakers partially represented by exhibiting artists and partially by invited guests.
ABOUT THE EXHIBITION
MultiSpecies brings together a diverse constellation of works from 12 artists, designers and architects, all exploring ways of visioning our built and non-built environment in search of new possible forms of human and non-human co-existence. In an era where the limits of anthropocentric thinking are being questioned, the works seek to foreground the possibilities of learning from complex built and natural systems and encourage a more fluid and open perspective on ourselves and our surroundings.
Featuring works from:
a-works
Bogdan Mateiaș
Ciprian Ciuclea
Kobie Nel
Kristian Vasquez Bøysen
LCLA Office w/ Maximilian Schob
Liliana Mercioiu Popa
Linda Morell
Marilena Preda Sânc
Natural Materials Studio
Matei Bejenaru
Studio ThinkingHand
Curators: Andreea Căpitănescu & Cristian Ștefănescu
Assistant Curator: Denisa Rad.
ARTISTS BIO
___
a-works is a Bergen-based architecture and art practice led by Cristian Stefanescu, currently Assistant Professor at the Bergen School of Architecture.
The practice constructs environments which try to recenter situations of a marginal and peripheral nature, as a form of resistance and disruption to the generalization, standardization, commodification of our built and natural environment. The work evolves through collaborative means and the curious use of materials, assemblies and methods, while extending across various scales, locations and types. The practice output is closely aligned with each situation and as such ranges from the design of buildings, structures and public space, art installations in galleries and public space, exhibition design, scenography, as well as print publications.
The practice has been shown internationally at the National Museum of Contemporary Art in Romania, Architekturzentrum in Vienna as part of the 2016 Vienna Biennale, the Romanian Pavilion at the 2021 Venice Architecture Biennale and 2022 BETA Biennale for Architecture in Timisoara. And within Norway at Hordaland Kunstsenter, USF Visningsrommet, Gyldenpris Kunsthall, BIT Teatergarasjen, Kunsthall 3,14, B-Open in Festplassen, Unge Kunstneres Samfund, Kristiansand Kunsthall and Barents Spektakel.
___
Bogdan Mateiaș is a Romanian visual artist and his artistic activity is also related to pedagogy, since 2005 he is teaching digital art at National University of Arts Bucharest, Romania.
The artist is preoccupied with the history of the XX century, with an accent on the two worldwide conflicts that shaped the universal history, mostly the European one. Violence and army conflicts themes are present in all the mediums in which the artist works: painting, collage, object, installation, video. In the collages and paintings of Bogdan Mateiaș, the image of propaganda appears obsessively alongside pinups, the relationship between the two extremes, life and death, being a constant in his creation. In his work, the artist uses instruments with a powerful emotional impact, the weapons and other objects for destruction. They are diverted from their original purpose by mixing with elements of taxidermy, casts after animal fragments or texts written in neon. In all the mediums used by the artist there is this tension between two extremes: truth – interpretation, life – death, human – non-human. Bogdan Mateiaș constantly participates in national exhibitions, his works being in the collections of the National Museum of Contemporary Art of Romania, Bucharest; the Cultural Center «Brâncovești Palaces from the Gates of Bucharest», Mogoșoaia; Museum of Visual Art, Galați; Tulcea Art Museum; Vrancea Cultural Center, Focșani.
___
Ciprian Ciuclea is a visual artist based in Bucharest. He is interested in interdisciplinary projects that focus mainly on the conceptual features of reception. The themes he explores are closely related to the social aspects of communication, interpretation of messages, astrophysics and theoretical physics, contemplation and supervision, placed in relation to the scientific aspects of human existence.
He performed and exhibited worldwide including Saitama Modern Art Museum (JP), Engramme, Quebec (CAN), Platforma-National Museum of Contemporary Art Bucharest (RO), Brukenthal National Museum, Sibiu (RO), D. Manuel Palace, Evora (PT) or alternative spaces such as Hospital de Santiago, Cuenca (ES), Forte Marghera, Venice (IT).
He is president of Experimental Project Association for Contemporary Art and founding member of Romanian Society for Ophthalmogenetics – SROGEN. Between 2000-2017 he was the director of IEEB (International Experimental Engraving Biennial in Bucharest). He has a PhD in visual arts at the National University of Arts in Bucharest with a theme on the optical interpretation of mediated reality through technology.
___
Kristian Vasquez Bøysen lives and works in Oslo. Bøysen is educated as an architect at the Bergen School of Architecture. He has previously studied industrial design at the Oslo School of Architecture and Design and art at the School of Art in Bergen. Bøysen has exhibited works at Galleri Memphis (Oslo) and the Bergen Academy of Fine Arts.
___
Kobie Nel is an artist based in Bergen. She holds an MA from Bergen Academy of Art and Design (2016) and a BA in photography from the Royal Melbourne Institute of Technology, Australia (2011). She works with installation, sculpture and photography. Recent exhibitions include Norsk Billedhoggerforening, VOLT, Vestlandsutstillingen (2022), Gyldenpris Kunsthall (2021), Parabol – Kunsthall 3,14, Bergen (2020), Gyldenpris Kunsthall, Bergen (2020), Bergen Kjøtt (2018), Tag Team Studio, Bergen (2017), Galleri FELT, Bergen (2017) and Bergen Kunsthall (2016). Internationally, she has participated in exhibitions at places such as I: Project Space, Beijing (2017), Hong Kun Museum for Contemporary Art, Beijing (2017), Colour Factory, Australia (2013) and the National Portrait Gallery, Canberra (2011). In 2017 her artist book Black Lake Monologue was published by CODA Press, Bergen.
___
LCLA Office
Founded in 2008, LCLA office is based in Oslo and led by Colombian architect and landscape architect Luis Callejas and Swedish architect Charlotte Hansson. The studio bridges the assumed limits between architecture, landscape architecture, and visual arts, combining practice with applied research.
LCLA office's director Luis Callejas is a professor at the Oslo School of Architecture and Design and visiting professor at Harvard University Graduate School of design. Charlotte Hansson's experience in Scandinavia includes working at Space group, White Arkitekter and Alab. In 2020 they were the Louis Kahn visiting assistant professors at the Yale school of architecture.
The studio has been nominated to the EU Mies award for European architecture in 2021 and the Mies crown hall for architecture in the Americas in 2022 and 2014. LCLA office was awarded with the Architectural League of New York Prize for Young Architects in 2013 and selected as one of the world's ten best young practices by the Iakov Chernikhov International Foundation in 2010. LCLA office was nominated again in 2012 and 2014.
In 2016 Callejas was one of the three finalists for the Rolex mentor and protege arts initiative.
Since 2008 LCLA office has received diverse recognitions in twenty design competitions and their works exhibited recently at the first Chicago Architecture biennial, 2018 and 2021 Venice biennials, the 2016 Lisbon triennial and the 2016 Oslo Architecture triennial. Recently some the studio's works were acquired by the permanent collection of the Carnegie Museum of Art.
___
Liliana Mercioiu-Popa is a visual artist who lives and works in Timișoara. She has distinguished herself in recent years by participating in the 2015 and 2019 Art Encounters International Biennial and numerous group exhibitions, national and international, with a notable solo exhibition at MNAC, Bucharest, in 2020, and this year (2023), with the one opened in the Pavilion-ISHO space, which showed that her art is diversely faceted and unexpected. The poetics and/or politics of space related to various historical contexts (collective or personal), with the analysis of their repercussions in the present, as expressions of becoming, or the orientation towards micro- and macro-universes, with the observation of the interactions between the different levels (multiple spatialities) of reality, as well as the observation of tense subject-object interactions constitute the major directions of interest for the artist in recent times.
___
Linda Morell is a visual artist based in Bergen who mainly works with sculpture and installation, forming speculative futures based on myths, science, and medicine. Through the reinterpretation of current and historical theories surrounding the human body she has created works in various materials such as ceramics, metals, glass and plastics. Some of her previous works used hygenic design to examine the relationship between body and object, while the more recent have borrowed their form from organic organisms. The works have often moved between the human and non-human both in form and concept alluding to alienation and some of her work has mixed hand-built processes with virtual techniques to explore new forms of sculpting. Characterized by their material precision, the works can be understood as hybrids and artificial organisms.
___
Marilena Preda Sanc is an interdisciplinary artist, Professor at National University of Arts in Bucharest. From 1980 her work has been presented internationally at museums, festivals, conferences, symposium, broadcast venues and galleries.
Integrating the traditional forms of art and the new media arts, her art works visualizes and investigates the body/mind/soul/behavior in relation to nature and social/political and representational space. Her art work explores the feminism problematic as gender/ageism and woman as leader in an eco-feminism key.
She exhibited her art work in many national and international exhibitions, festivals and took part in residencies (Kulturkontakt Vienna, Franklin Furnace, N.Y.). Her videos, paintings, drawings, installations, interventions on photography are in museums or private collections such as The National Museum of Contemporary Art, Bucharest MNAC; Arhitekturni Muzej Ljubljana; Kunsthalle, Nurenberg; Albertina Art Collections, Vienna.
___
Matei Bejenaru (born 1963) is an artist and founder of Periferic Biennial in Iasi, Romania. Established in 1997 as a performance festival, Periferic transformed into an international artist-run contemporary art biennial defined as a platform for discussions on the historical, socio-political, and cultural contexts of the city. With a group of artists and philosophers from Iasi, Bejenaru founded the Vector Association in 2001, a contemporary art institution that supported the local emerging art scene to become locally and internationally visible. Together with a group of artists and professors he founded in 2015 the Center of Contemporary Photography in Iasi.
Between 2011 and 2012 he was a visiting professor at Université du Québec à Montréal (Canada).
In his recent artistic projects, he is researching the materiality of the photographic medium and politics of representation in documentaty format. Using the analogue technological platform, he is focussing on photographic process as a witness of the crisis of singularity and artistic commitment.
He is teaching photography and video at «George Enescu» Arts University in Iasi.
Matei Bejenaru collaborates with Anca Poterasu Gallery in Bucharest.
___
Natural Material Studio is a fluid practice that aims to expand our material conception and perception through artistic design and spatial installations. Works, exhibitions and concepts are based on phenomenological, speculative themes about sustainability, nature and future.
Through years of immersive material and interaction research the practice has achieved to develop and design a range of experimental though functional, bio-based materials. These we use in our own work as well as in collaborations and commissions. We work cross-disciplinary, systemically and research orientated with an involvement from different fields to expand our knowledge and thereby to continue to contribute with new works that explore materials, design, art and space.
Our work is material-led, meaning the design journey is centered around the properties and qualities of the explored matter. We let the material and its narrative drive the design process.
The studio is based in Copenhagen, Denmark, and founded by Bonnie Hvillum.
___
Studio ThinkingHand is an art duo formed by Rhoda Ting (b. 1985, AUS) and Mikkel Dahlin Bojesen (b. 1988, DK) currently based in Kalvehave, Denmark. Their works researches listening, relating and co-creating with other than human species, making visible stories, intelligences, and life beyond the human gaze. Bringing together science, technology and industry, their work investigates speculative futures, and explores ways that can move us affirmatively beyond the anthropocene. Drawing from contemporary posthumanist and eco-philosophical disciplines, they seek to revise ways in which humans participate in the web of planetary interconnectedness. They imagine a queer future of co-evolution and adaptability, challenging binary categorisations between Nature and Culture, the organic and the synthetic and the pure and feral.
___________________
The exhibition is a part of the Emerging Towards (Future) project, situated at the convergence of art, ecology, and architecture. Through contemporary art and its related fields, the project highlights the need for collaborative, intergenerational, and trans-sectoral actions in research, production, and dissemination processes, adapted to both current and future contexts. You can find more information here: www.emergingtowards-future.com.
___________________
This project is financed with the support of EEA Grants 2014-2021 within the RO-CULTURE Programme.
The EEA Grants represent the contribution of Iceland, Liechtenstein and Norway towards a green, competitive and inclusive Europe. There are two overall objectives: reduction of economic and social disparities in Europe, and to strengthen bilateral relations between the donor countries and 15 EU countries in Central and Southern Europe and the Baltics. The three donor countries cooperate closely with the EU through the Agreement on the European Economic Area (EEA). The donors have provided €3.3 billion through consecutive grant schemes between 1994 and 2014. For the period 2014-2021, the EEA Grants amount to €1.55 billion. More details are available on: www.eeagrants.org and www.eeagrants.ro.
RO-CULTURE is implemented in Romania by the Ministry of Culture through the Project Management Unit. The Programme aims at strengthening social and economic development through cultural cooperation, cultural entrepreneurship and cultural heritage management. The total budget amounts to almost 34 million EUR. For more details access: www.ro-cultura.ro.